I love Jimi Hendrix along with all of his music & after coming across this Acapella i had to have a go at re-mixing him. This was also one of the first music videos i made.
Th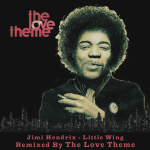 is song was inspired by the 1967 Monterey Pop Festival, a concert held during 3 days of the "Summer of Love" (1967) featuring The Who, The Byrds, Janis Joplin, and many others.
Attended by about 200,000 music fans, it happened 2 years before Woodstock. Jimi wrote about the atmosphere at the festival as if it was a girl. He described the feeling as "Everybody really flying and in a nice mood." He named it "Little Wing" because he thought it could just fly away.