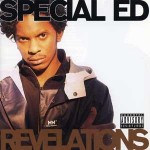 I first met Special Ed in Brooklyn in 1992, I was working with Producer Howie Tee who had discovered Ed and produced his breakthrough Hit "I Got It Made" & his debut gold album Youngest in Charge.
Profile records was a label i always wanted to work with, as the home to Run DMC, Dana Dane, Poor Righteous Teachers, Onyx & more it had legendary status within the Hip Hop community.
On his third album Revelations (1995) outside production was used for the first time. I got to record two song's with one of them being "Crazy" which made the Revelation's album
Check out the original sample i used HERE.